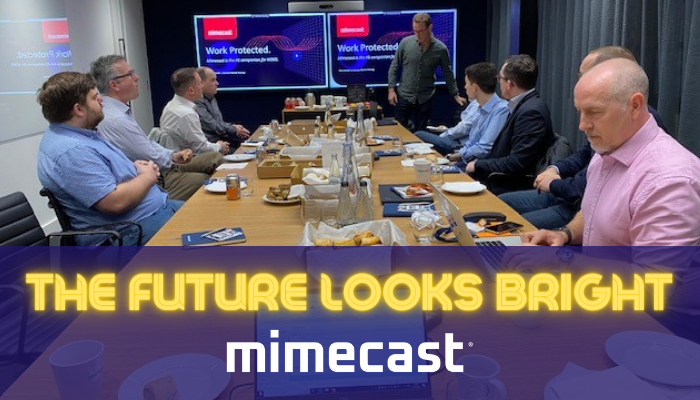 We have enjoyed a long and healthy relationship with Mimecast over the past decade, withstanding economic uncertainty as well as the continued evolution of Microsoft365 and other emerging technologies within the cyber security space. .
This year we saw a fundamental change for Mimecast with a huge financial investment from Permira taking them from a public listed company back to private ownership.
Peter Bauer, Co-Founder and CEO said of the acquisition "With Permira's resources, network and deep experience scaling global technology companies, we will be better positioned than ever to deliver the innovations that our customers and the world need. I want to thank our 2,000 Mimecasters for their relentless dedication to our customers and our mission."
The relevance of Mimecast
With a broadly similar mission over the past 10 years we've been working with them and emergence of largely API-driven Integrated Cloud E-MailSecurity (ICES) platforms along with many organisations choosing to purchase Microsoft E5, organisations could be forgiven for wondering whether Mimecast is still innovative enough or relevant to securing their E-Mail and Data.
In mid-November, we hosted an event at Mimecast HQ with their Director of Market Strategy, Max Linscott and their Global Services Director for MSPs, Johan Silkenäs, to share their vision under Permira's ownership as well as to discuss how they are seeking to better support their Clients.
Max kicked off with the reminder that adoption attracts risk – We saw this during the pandemic with Zoom, as adoption rapidly increased so did the number of Zoom-bombing incidents and phishing attacks mimicking Zoom links and login pages.
With 345m licensed users (and growing), Microsoft365 leads both adoption and exploitation statistics.  Mimecast saw from their E-Mail Security Risk Assessments (ESRAs) with prospective clients that number of unwanted or malicious E-Mails scanned as safe by companies with E5 licenses increased by 300% between 2020 and 2021 (2022 data to be published shortly) from approx. 170 per 1 million to 680 per 1 million E-Mails seen as malicious or unwanted.
It's a worrying trend when considered that 91% of reported breaches still involve E-Mail couple with M365 credentials being the most targeted globally.
Mimecast and M365
It would be unfair to expect Microsoft to handle the scale of the threat alone and Mimecast are working hard to be the number one companion to M365 seeking to secure Communications, Data and People in a single platform with their Work Protected Methodology.
In doing so, they're actively seeking to try and reduce the risk in another key area; Vendor Complexity.  In recent years many IT Teams have experienced an increase in complexity with more tools to manage with the same, or fewer members in the team and Mimecast continues to enable IT Teams to consolidate multiple services into their single platform including the core pillars of Threat Detection, User Awareness Training and DMARC Management that make up E-Mail Security.
So what's changed in the past 12 months and what's coming to help companies?
The shift to Work Protected from Cyber Resilience; Mimecast aims to provide organisations with Trusted Communications, Safe Data and Savvy Users. They aim to do this throughout the lifecycle of any attack with:
– Broad visibility of Risks (Before)
– Dynamic Policy Application (During)
– Improved Threat Sharing & Forensics (After)
A significant redesign of the platform components (Mimecast's 'X1' platform which is comprised of:
– Precision Detection via continuous End User Protection with AI, Machine Learning and Social Graphing
– An always on Service Fabric to provide scale, resiliency and speed of deployment
– Rich Data Analytics and correlation capabilities to provide highly contextual Threat Intel
Integrations with other leading providers like Crowdstrike, Netksope and Okta as well as further integration with Microsoft for cross-platform threat-sharing and policy orchestration
Security and Archiving capabilities into Teams, with Slack, OneDrive and Sharepoint coming shortly
The launch of Cloud Integrated, their new API-driven E-Mail Security service for M365, which brings ease of deployment (minutes, rather than days or weeks), advanced E-Mail Security capabilities with little to no configuration required and a simplified Admin Experience with easy Threat Visibility and Data Insights
Although initially launched as an E-Mail Security only service, Cloud Integrated will be expanded to the full product suite over the next 12-24 months.
Next, Johan Silkenäs, very kindly provided an update on the state of support.  He addressed both shortcomings that some clients had experienced, as well as shared the investment to bring support back to a world class function.  (We're happy to discuss this privately if you'd like to know more).
We, along with most of the clients in the room, came away feeling confident that the changes and investment that Mimecast is putting into making support as good as it can be, is moving in the right direction.  This is not something that will happen overnight, but  we believe that by mid 2023, the change to be significant and the support that Mimecast was well known for, being as close to back as possible!
Our Mimecast clients that came along left the room feeling as excited about the future of Mimecast as much as we did. One client stated, "Really very interesting information and a lot of food for thought" another one added, "Thanks for a great event, really eye opening about the roadmap". One of our clients expressed their appreciation… "Great to see the human side and transparency of Mimecast come out".
Here's to many more years of Mimecast!
If you would like to learn about the selection of products and solutions Mimecast can offer for your cyber security protection, then in get in touch today.
---
Go Back